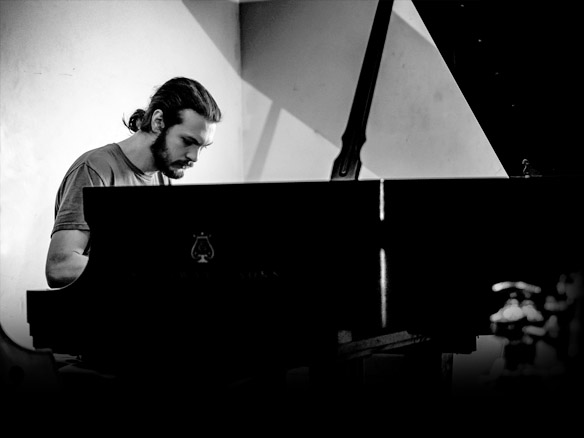 Pianist and composer Zack Clarke has received international acclaim for his explorations of jazz improvisation, classical, and electronic music. Random Acts of Order, his debut release on Clean Feed Records, gained recognition as a notable work in both US and international publications, including Freejazzblog critic Rick Joines' Top Ten for 2017 and the Best of Improvisation from Italy's Percosi Musicali. He has also appeared in the top pianist selection by Gregory Applegate Edwards in the 2017 El Intruso International Critics' Poll. Zack's second release on the Clean Feed label, entitled Mesophase, has drawn acclaim for its ability to unite through-composed ensemble performance, electronic music and improvisation in a captivating defiance of musical convention. Vertical Shores, his third album featuring jazz trio, was released in 2019, earning mention as a notable new release in the 14th Annual NPR Jazz Critics Poll.
Historically it has been artists who've made this kind of music. Here, in the immediate present, on this great recording led by Zack Clarke's direction, beautiful work on piano and electronics, he and his colleagues, all young, deep, brave, talented artists lead the way forward. — Joe Morris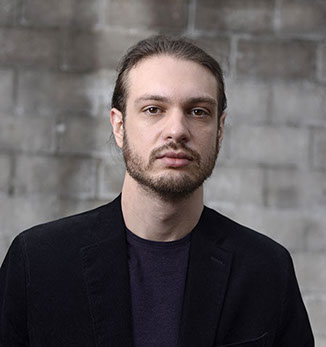 Zack Clarke is a pianist and composer living and working in New York City.  Random Acts of Order, his debut album on Clean Feed Records, was released in 2017, followed by his 2018 release of the electro-acoustic album Mesophase.  His third album, Vertical Shores, was released in 2019.  Previous recordings include the electronic album Music For Headphones, and Dialectic, a collaboration with cellist Chris Irvine that features free improvisation based on Bach's third cello suites. Clarke's emerging body of work reveals a command of diverse musical styles and a determined pursuit of new ideas through experimentation and improvisation.  His music draws from classical, jazz and electronic music; serving to explore the broader concepts involved in improvised and free music.
An active session artist and performer, Clarke has recorded or shared the stage with a number of prominent artists and has appeared before audiences in the US, Europe and South America.
As a collaborator he has appeared on numerous recordings, including Luis Antonio Castro's albums Koyari, Mirrors, and Rosa; and with percussionist Dre Hocevar on the album Transcendental Within the Sphere of Indivisible Remainder.
A Texas native and alum of Houston's acclaimed High School for the Performing and Visual Arts, Clarke's abilities as a jazz improviser were recognized early on with multiple awards, including outstanding soloist awards from Downbeat Magazine and from the North Texas Jazz Festival.  He attended The New England Conservatory in Boston, majoring in Jazz Performance, and while there had the opportunity to study with jazz greats Danilo Perez, Fred Hersch, and Jason Moran. Upon completion of his Bachelor of Music degree he moved to New York to study with Kenny Werner and attend NYU, where he earned a Masters of Music and worked as adjunct faculty.
In addition to performing and composing, Zack is a dedicated teacher who is grateful for the mentorship he has received, and finds rewards in sharing that knowledge with others through instruction in piano and music theory.
Encuesta 2017 — Periodistas Internacionales
Critic: Gregory Applegate Edwards, Piano Category read more>
Best of 2017, Percosi Musicali (Italy)
Improvisation Category read more>
2017 Top Ten List, Freejazzblog
Critic: Rick Joines read more>
Best of 2018,Acoustic Levitation
Critic: Steve Koenigread more>
Encuesta 2019 — Periodistas Internacionales
Critic: Zlatan Dimitrijevic, Piano Category
14th Annual Jazz Critics Poll
Top 10 New Releases of 2019 Critic: Martin Longley
Best of 2019 — Jazz Portugal
Jazz.pt/Melhores de 2019 Critic: Giancalo Falcao
NYC JAZZ RECORD
Zack Clarke pulls out the plug for the piano trio on Vertical Shores and follows the egalitarian models of forerunners such as Bill Evans and Paul Bley by allowing his colleagues equal agency in the edgy interaction he promotes. 
ALL ABOUT JAZZ ITALIA
Un disco in piano trio veramente lodevole, come per buona sorte ci capita di ascoltarne non poi così di rado, in tempi recenti. Il che, per una formula che potrebbe apparire consunta e priva di sbocchi, non è davvero rilievo di poco conto. Album della settimana.
TEXTURA.ORG
With double bassist Kim Cass and drummer Dre Hocevar as engaged co-pilots, Zack Clarke continues his bold reimagining of the jazz piano trio tradition on his third release for Clean Feed. A stellar follow-up to the earlier Random Acts of Order and Mesophase releases…